TUDOR Reference 7922. Produced mid 1950's. Note the underline. PhilippS
Submariner Reference 7922
The earliest Submariner found in the Tudor family is the Reference 7922. The 7922 is a special watch in many respects. First of all it would seem that the Tudor Ref. 7922 Submariner and the Rolex Ref 6538 Submariner were introduced at the same time. Many Rolex experts (e.g. Guido Mondani, Submariner Story, 2009), lists the Rolex Refrence 6538 Submariner to be running as a production watch since 1956. Interestingly enough the earliest Tudor Reference 7922 was also introduced in 1956. (in our serial # database we have a single one with a I.56 caseback). This to us would indicate a simultanious roll-out of the two models - Rolex and Tudor - side by side. Also note that the Rolex and Tudor serial # ranges of the mid 1950's are almost identical. This indicates to us that the two serial # ranges started at the same point in time, and the gap between the two ranges grow during the late 50's and into the 60's as Rolex sales soar, and Tudor sales does not.
The 7922 sports a 8mm Brevet "+" crown as does the Rolex 6538. The dial layout and hands are similar in styling, fonts and shape, to that of the Rolex 6538. Note the 100m dial vs. 200m dials is a long standing discussion amongst Tudor fans and collectors. Not enough original pieces exist in order to firmly decide on the existance of 200m dials beginning in 1956. Most likely the dials started out as 100m dials and in the late 1950's the 200m dials were introduced. The confusion regd. this may be based on casebacks being swapped, dials used and replaced at service and the common fact of very few pieces in exsistence to compare with.
The bezels are usually fitted as bi-directional bezels with red triangle - similar to the Rolex variation.
TUDOR Reference Submariner 7922 from Antiquorum.com
Later 1950's 7922 also exist as small crown versions - i.e. without the 8mm Big crown. Again, these exist in the wild, as both 200m and 100m versions - and it's not been possible to determine exactly which variation came first. However, we have not seen a "standard crown" variation with a sub 240.000 serial #. Which would indicate that the Big Crown variation came first. (Already seen from the #140.000's). The 7922 non BC's we have seen are all thin case variations, and they feature the 6mm oyster crown.
The below example is a lovely example of a small crown 7922, with correct serial for a small crown version with gilt hands & 'big lollipop' seconds hands, 100m dial and stamped caseback.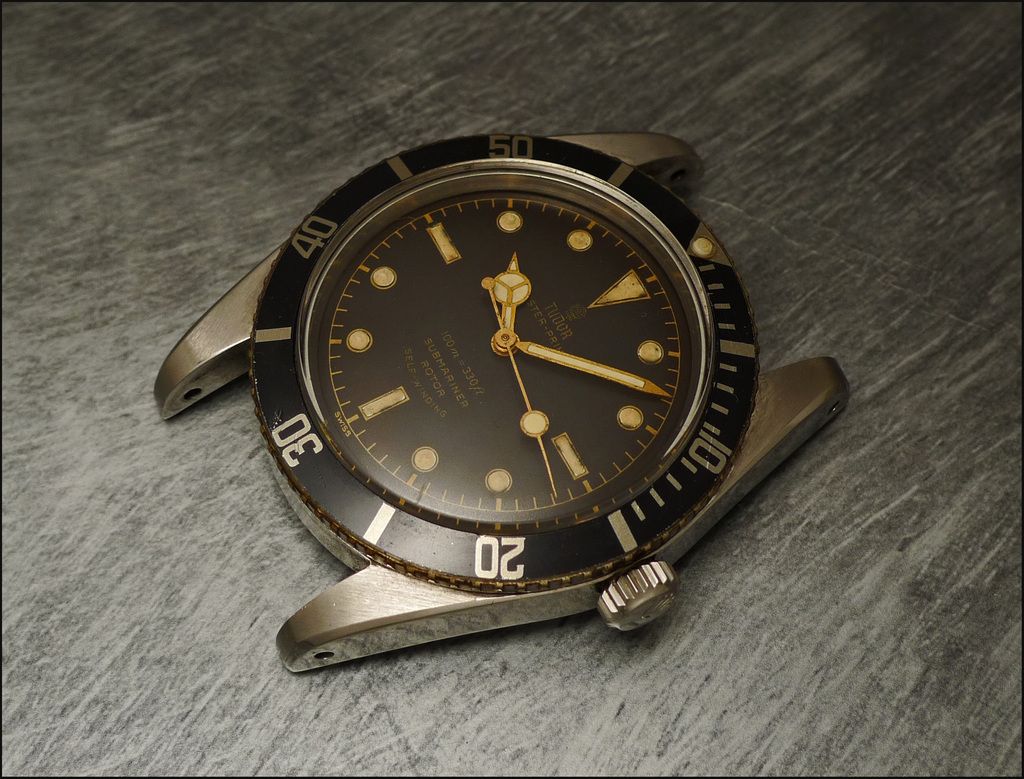 Photo by Amanico
The 7922 was most likely sold with Rolex stainless steel Ref. 7206 Rivit bracelets or the optional 6636 "stretchy" variation. The watch is 20mm between the lugs and the caseback uses the standard Rolex 29.5mm case opener. 6538 casebacks have been seen in 7922 watches.
The movement is a cal. 390 Tudor movement. Originally produced by Fleurier. The movement is automatic, as nearly all Tudor Submariner movements